A peculiar building in the East End of London houses some of the oldest and most terrifying secrets ever to plague the mortal world.
In these three compelling adventures; demons escape, time travels backward, peculiar creatures speak and innocent people are possessed by ancient evils.
Inititation
A rare tale from the Wyrd Museum
(a prologue to The Raven's Knot).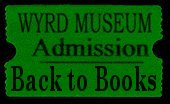 © 2016 Robin Jarvis. All rights reserved