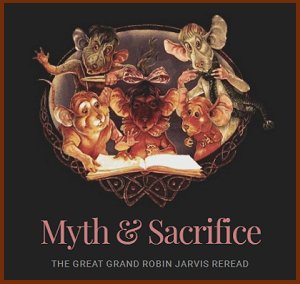 "In 2016, Aufwader and Matt - two truly heroic and intrepid individuals on opposite sides of the planet, began the epic web portal, Myth & Sacrifice, a.k.a. the Great Grand Robin Jarvis Reread. Two whole stonking and storming YEARS later, I could have never have possibly guessed what an incredible resource you would create. Every single chapter, character, plot-twist, back-story and yes...death, within all 25 of my tomes have been expertly and ruthlessly dissected, analysed, debated and documented.

I have avidly devoured every word that you have written. I am humbled, inspired and plain pole-axed by your insight and the dazzling wit of your own unique voices. As an author, I couldn't possibly be more proud, or luckier to be the subject of your academic attentions. For me, and I hope for all my readers, you have spun the purest magic, crafting a vault of doom and delights that I will return to again and again. Thank you so much!

Yours, most Greenfully Robin Jarvis."
"What's your name?" Asked the woman.
"I'm, er, Lil. I think...Yes, Lil Wilson."
"And what are you doing here?"
"I've no idea!" cried Lil. "I know it's very important...
I just can't remember what it is!"
When Lil wakes up in a Whitby she has only ever imagined, she discovers that the sinister Mr. Dark is more powerful than ever before, and has enslaved young Verne to his will. Lil is determined to save her lost friend before their enemy unleashes his most despicable and insane plot yet - but first, she has to find him...